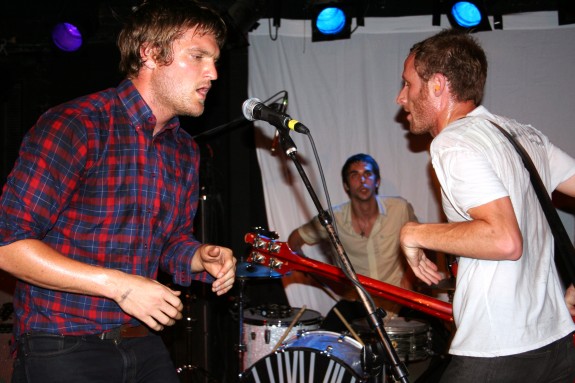 June 11th, 2010 | Tags: 2006, Cold War Kids, Mercury Lounge, New York City
Musician(s): Cold War Kids.
Date: Friday, July 28, 2006.
Location: Mercury Lounge, New York, NY.

Cold War Kids started in 2004 in historic downtown Fullerton in guitarist/vocalist Jonnie Russell's apartment above the restaurant Mulberry St. (their first EP title) The band relocated to Whittier, California and began recording their first demos, which, when released in the spring of 2005, ultimately became known as the Mulberry Street EP. Between self planned tours, the band released two more EPs: With Our Wallets Full and Up in Rags, in 2006. These two EPs ultimately led to the overwhelming attention among the blogging community, which in turn was the cause of their rapid growth as a band. In the summer of 2006, Cold War Kids signed to Downtown Records (home to Gnarls Barkley, Art Brut) and released their debut LP Robbers & Cowards that fall.
More Info: Cold War Kids.
Clicking on a photo below will open the photo in a full-size lightbox window.