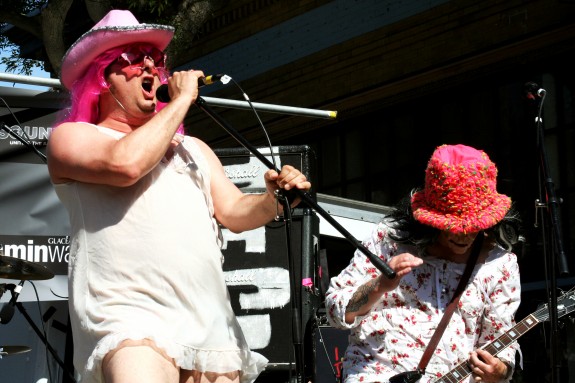 June 12th, 2010 | Tags: 2008, Haight Ashbury Street Fair, San Francisco, The Grannies
Musician(s): The Grannies.
Date: Sunday, June 8. 2008.
Location: Haight Street, San Francisco, CA.

The old, now defunct Mission Police Station, San Francisco circa 1999 is as good a birthplace as any for a phenomena as degenerate and altogether fucked up as The Grannies. The blame could be laid at the feet of Fate, but Fate already catches a lot of shit just by standing around, and really wants nothing to do with something as mentally debilitating as The Grannies anyway. Somewhere between 30 and 163 years old, they were drawn to each other there in the fetid human-ish stew slopped together in the holding cells.
More Info: The Grannies.
Clicking on a photo below will open the photo in a full-size lightbox window.