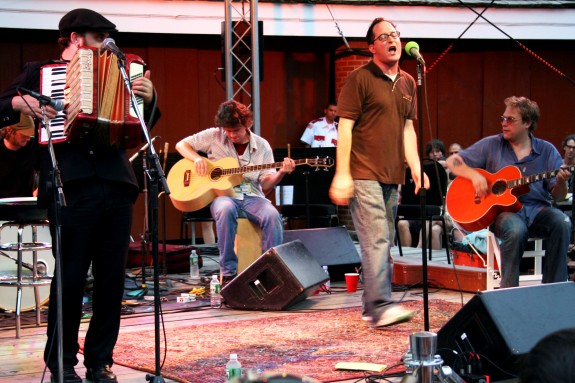 June 12th, 2010 | Tags: 2006, Castle Clinton, New York City, River To River Festival, The Hold Steady
Musician(s): The Hold Steady.
Date: Thursday, July 27, 2006.
Location: Castle Clinton, New York, NY.

The Hold Steady is a Brooklyn-based rock band formed by vocalist/guitarist Craig Finn (ex-Lifter Puller) in 2004. Wanting to capture the sound of bands such as The Replacements and The Grifters, he recruited guitarist Tad Kubler (also ex-Lifter Puller), drummer Judd Counsell, and bassist Galen Polivka. In 2005 the band grew to include Franz Nicolay (of The World/Inferno Friendship Society) on keyboards and Bobby Drake took over on drums following Counsell's departure.
More Info: The Hold Steady.
Clicking on a photo below will open the photo in a full-size lightbox window.